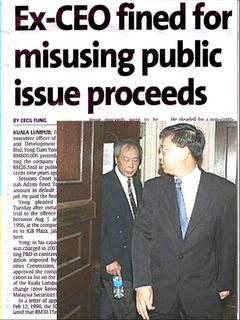 CBT

This is a Criminal Breach of Trust; a failure in performing a fudiciary duty of which it was entrusted to him by the public and of which $26 million was blatantly misused and abused. For that crime, he was fined $600,000 by the Session Court. Isn't it worth? I would want to take this risk, as it's worth the efforts where the public had to pay $26mil?
To add salt, the ACA spent huge sums to investigate the affairs and culminated with this conclusion. Oh.....god is great, but men are greater....
Read the story:
Former chief executive officer of Plantations and Development (Malaysia) Bhd, Yong Tiam Yoon, was fined RM600,000 yesterday for abetting the company in misusing RM26.5mil in public issue proceeds nine years ago. Sessions Court judge Nursinah Adzmi fined Yong, 54, the amount in default 20 months' jail. He paid the fine.
Yong pleaded guilty on Tuesday after initially claiming trial to the offence committed between Aug 1 and Nov 15, 1996, at the company's premises in IGB Plaza, Jalan Kampar, here. Yong, in his capacity as CEO, was charged in 2001 with abetting P&D in contravening a condition imposed by the Securities Commission, which had approved the company's application to list on the Main Board of the Kuala Lumpur Stock Exchange (now known as Bursa Malaysia Securities Bhd).
In a letter of approval dated Feb 12, 1996, the SC had stipulated that RM30.15mil of public issue proceeds were to be utilised for the acquisition of land, financing a joint venture project, acquiring an office block at Sentul Raya and as working capital for P&D. However, the funds were used to reduce loan facilities by several subsidiary companies of P&D and as at Nov 15, 1996, a total of RM26,493,335.57 had been misutilised.
Two others charged with the same offence were P&D executive directors Chua Peng Len @ Chua Peng Jin, 65, and Gwi Chin Fatt, 51. Chua was fined RM250,000 after he pleaded guilty in 2001 while Gwi was fined RM500,000 when he admitted to the offence two weeks ago.
In mitigating for a light sentence, counsel Tan Hock Chuan said that Yong was not the sole person who made the decision on how the said proceeds were to be utilised. He said P&D's board of directors had decided against the acquisition of land and the office block at Sentul Raya due to the weak property market at the time. He pleaded for a non-custodial sentence for Yong who suffers from diabetes, hypertension and stomach complications.
"The accused is married with three children and comes from a prominent family in Singapore. His reputation has already been affected as a result of this conviction."
P&D was classified under Practice Note 4 of the KLSE Rules in February 2001 with a negative shareholders' fund of RM134.5mil as at Dec 31, 1999,
In November 2003, its listing status was subsequently taken over by Fountain View Development Bhd. The new company is also entangled in some legal problems. Businessman and substantial shareholder of Fountain View Development, Datuk Chin Chan Leong, 52, was charged on June 25 with manipulating the company's shares in the stock market. Former Avenue Securities Sdn Bhd remisier Hiew Yoke Lan, 43, was also charged with abetting him.
Corporate Governance? Minority Watchdogs? Where are they????
Malaysia Boleh Ideology!!!!!