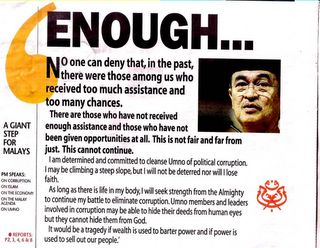 ENOUGH

"The Profound Obscrurity of our Ignorance is scarely illuminated by a few Glimmers of our Insight. ...that the process in the Unconscious or in the id obey different laws from those in the Preconscious Ego."
- Sigmund Freud
Government cannot continue to play Santa Claus
THE Government cannot play Santa Claus by continually handing out contracts as "gifts" to Class F contractors, said Prime Minister Datuk Seri Abdullah Ahmad Badawi. Conceding that his decision might not be popular, he said there would be no more pump priming of the construction sector because "every cycle runs its course."
"No one can deny that, in the past, there were among us those who had received too much assistance and too many chances."
"There were those who had not received enough assistance and those who had not been given opportunities at all. This is not fair. This cannot continue."
"We must wake up to the fact that when we award a scholarship to an unqualified bumiputra, we are depriving a more deserving bumiputra recipient. This is clearly unjust," Pak Lah said.
"Awarding a contract to a bumiputra company that is incapable of doing quality work when there are other bumiputra companies that are more capable is also unjust and cannot be allowed. It must be stopped. We set targets but others mock us."
RENT-SEEKERS and "leakage" in implementation resulted in Bumiputeras failing to achieve fully the targets set under the New Economic Policy. These rent-seekers abused the opportunities given to them. Instead of using the opportunity to expand businesses and enhance capacity, which would have ensured continued and lasting success, they went for short-term gains.
The permits, facilities, contracts and licences allocated to them were instead handed over to others for a quick profit.
After that, they demanded new opportunities again and again. Their actions led to the creation of a class of Malays who transformed the term "middlemen" into a full-time profession.
They were given shares under the Bumiputera quota allocation to meet equity ownership targets. It was a tragedy for the Malay race that these people sold their shares for immediate gain.
Individuals were entrusted to helm companies but were content with symbolic involvement, remaining on the sideline.
The greater tragedy for the race were those who betrayed the trust placed on them by committing fraud.
Our dignity and our survival are at stake. We have to approach our problems with a new mindset and a fresh spirit.
(read:
MALAY AGENDA: Success if you embody new Malay spirit
)
According to Pak Lah, it is imperative that Malaysia must follow a 10-point plan for collective prosperity. The Plan is aimed at building a knowledge-based economy.
(read:
10-point plan for prosperity
)
First, the nation must multiply efforts to ensure higher and sustained economic performance. It would include managing the economy carefully and safeguarding funds and savings for the future, managing public spending, striking a balance between stimulating economic activity and reducing the deficit. "We will reduce the deficit in stages to allow the economy to still prosper; and a reasonable amount of development expenditure has been allocated," Pak Lah said.
Secondly, there would be a shift in focus from "hardware" to "the software elements that touch on human development."
The third approach was to strengthen the basics and fundamentals of Malaysia's economy and to explore new sources of growth.
Forth Point: The Plan also recognises the need to further improve the public sector delivery system. "Investors, including domestic investors, do not have the time or patience to wait long periods. They will choose destinations that facilitate business.
Fifth Point: "Excessive bureaucracy must be abolished. A delivery system that is efficient and expedient plays a big role in reducing corruption, which increases the cost of doing business and consequently blunts our competitive edge."
Sixth Point: The Plan is designed to enhance integrity and eradicate corruption in every sector and grouping.
Seventh Point: Improving quality of life through housing, healthcare, education and infrastructure development and the eradication of hardcore poverty follows.
Eighth Point: Capacity building and capacity enhancement of human resources were also in the Plan.
The final strategy will be to build a nation that is stable, united, peaceful and prosperous.
COMMENT:
Where is NINETH POINT? Sudah Hilang????
I can find in the print?
Maybe, Pak lah intentionally left it out so that someday, he can add it on if necessary.
BUT.... this is not what UMNO Youth had called for yesterday???
Is Pak Lah's ideology different from his son-inlaw who is UMNO Youth deputy chief?
This is glaring and it can be observed that both the institution are preaching different philosophy and have divergent ideology.
To Pak Lah's vision, Malaysia as a whole has to let go the Santa Claus expectation. To his son-inlaw, Khairy Jamaluddin, Umno Youth wants the return of the NEP and this was no longer a hidden agenda or something only in spirit and soul. He said this should be the basis for the country's economic planning in the coming Ninth Malaysia Plan with no shame or excuses. "No need to hide. This is the Malay agenda." "We want 30% equity for the bumiputras so that they will be on par with the other races."
On par with other races? Which race? Chinese, Indian, American, English, Jews, Mamak?
In terms of wealth between the Malay, Chinese and Indians, the bumiputras controlled more than 51% of the nation's wealth. But 70-80% of the nation's wealth is in the hands of foreign investors. So, to be on par, UMNO Youth had to buy over the investments from the foreigners which is worth in excess of RM500 billions. And if you want 30% of this, then it would require RM150 billion. Where does he get the money? Steal, rob, burgle, or force a nationalization program on foreign investors? Try do it and see how the nation crumble!!!!
When we deal with economic prosperity, it is not about bulldozing your nose and stuck it into the asshole of another. It is about earning it. It is about capacity and capability building as enunciated by the Prime Minister. It is not about an AGENDA or a SCHEME. It is work hard and spent less. It include tapping wealth from the global economy. Iy requires entrepreneurship skill and risk taking. It is not about rhetorics and shouting loud and trying to frighten others. It is not about INTIMIDATION.
For information, there are more than 50% Chinese still living slightly above poverty level, and more than 70% Indians hovering at the poverty horizon. And they don't shout loud for privilege, social welfare and rent-seeking. They never ask for APs and Contracts. They only seek subsidized education and educational opportunities, and subsidised medical benefits. Yet they are intimidated!
Will Pak Lah's economic doctrine work? No way, if you read the lines of their Youth movement!!!