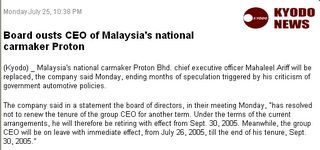 Mahaleeled

PROTON Board SACKS CEO
GAME-OVER for Mahaleel! Proton Board of Directors decided to sack their maverick CEO, after months of altercation.
It must have been a brave decision, considering the well-known fact that Mahaleel has always been protected by Tun Mahathir, Proton's Advisor and our beloved ex-PM. This decision must have received the consent from the prime minister, Abdullah Badawi.
Read the details from Kyodo News:
Malaysia's national carmaker Proton Bhd. chief executive officer Mahaleel Ariff will be replaced, the company said Monday, ending months of speculation triggered by his criticism of government automotive policies.
The company said in a statement the board of directors, in their meeting Monday, "has resolved not to renew the tenure of the group CEO for another term. Under the terms of the current arrangements, he will therefore be retiring with effect from Sept. 30, 2005. Meanwhile, the group CEO will be on leave with immediate effect, from July 26, 2005, till the end of his tenure, Sept. 30, 2005."
The decision ended months of speculation over Mahaleel's future in the company. His feud with the board has been an open secret. His only ally has been Proton adviser Mahathir Mohamad, former prime minister.
Mahathir twice saved Mahaleel from an early exit and it has been alleged it was Mahathir's meddling that led to Proton's former chairman, Abu Hassan Kendut, quitting early this year in protest because he felt Mahathir, with no formal executive position, was interfering with management efforts to revamp the long-protected automaker, including axing Mahaleel.
But the latest straw was when Mahaleel, who has been Proton CEO for eight years, went on a head-on collision with the government, which he accused of trying to kill Proton by opening up the automotive market.
Prime Minister Abdullah Ahmad Badawi replied the government stood by its commitment to market liberalization, including cutting tariffs on imported cars and urged Proton to improve.
As a national car company, Proton still receives government protection in the form of a 50 percent excise tax rebate.
At a press conference, Proton Chairman Mohammed Azlan Hashim declined to say if Mahaleel's contract was not renewed because of his criticism of the government.
"It's a question of change. Proton is an institution. It's not about an individual," Azlan said.
He added Mahathir has been informed of the board decision and that they are still looking for a new CEO.
Proton was Mahathir's brainchild, created in 1983 to spearhead the country's heavy industry.
It once dominated the market with an up to 80 percent share, but that has dwindled to about 40 percent in a 430,000 unit-a-year market due to the influx of cheaper models from South Korea and Japan.
Proton is currently in talks with Volkswagen AG for a partnership where the German company will use Proton to assemble its cars for the Southeast Asian market while Proton benefits from Volkswagen's technological know-how.